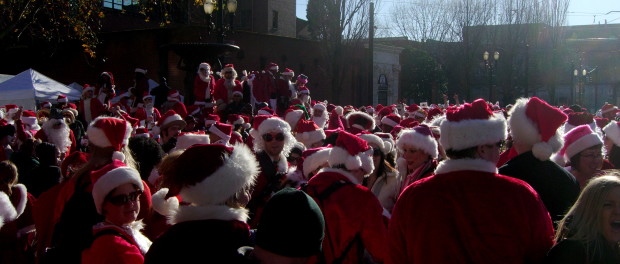 Engulfed By Santas or How I Learned To Love  Santacon
It was Christmas break and a friend and I were trying to go to Powell's.  We were circling around trying to find a parking spot.  We were stopped on that little street right in front of Rocco's pizza when suddenly were were surrounded by Santas!
They seemed to come out of nowhere and engulfed the entire intersection.  "HO HO HO" they shouted, candy canes began flying.  They meandered right through the middle of the intersection on Burnside, probably 200 of them, stopping traffic spreading holiday cheer.  Then as fast as they arrived, they were gone, all 200 of them, into Powell's.  I was delighted.
A couple years later, Chuck Palahniuk, wrote about Santacon in his fantastic book about Portland called Fugitives and Refugees and that's when I decided I had to do it.
I made a couple Santa Suits, and we met at noon at Skidmore Fountain.  They handed us each a wrapped gifts and said "Don't give these to kids, only adults".  We roamed the streets, crowded bars, crashed Tuba Christmas (which is a surprisingly serious affair) and filled the Max with drunken Santas.
There was a lot of Santa mischief.  At one point the Coast Guard was called in.  Yes, the Coast Guard..  We drank on the streets and in bars, played Santa games in waterfront park.  Things caught on fire.  Fruitcake was launched.  All in the name of Santa.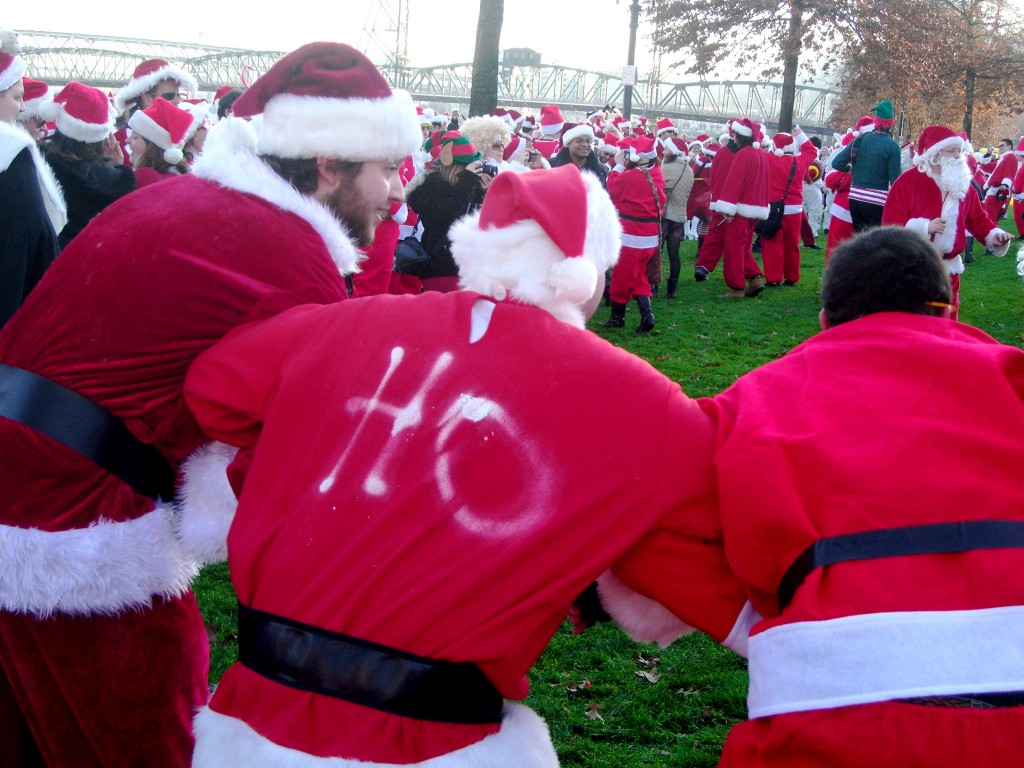 I have had to take a couple years off of Santacon because of prior commitments (like getting married), but this year, I plan to be back at it.  It appears there are two Santacons in Portland this year.  The first is this coming weekend (December 4th) in North Portland it is called "AntiCon".  It's been happening for a couple years now and I've heard is a great pubcrawl.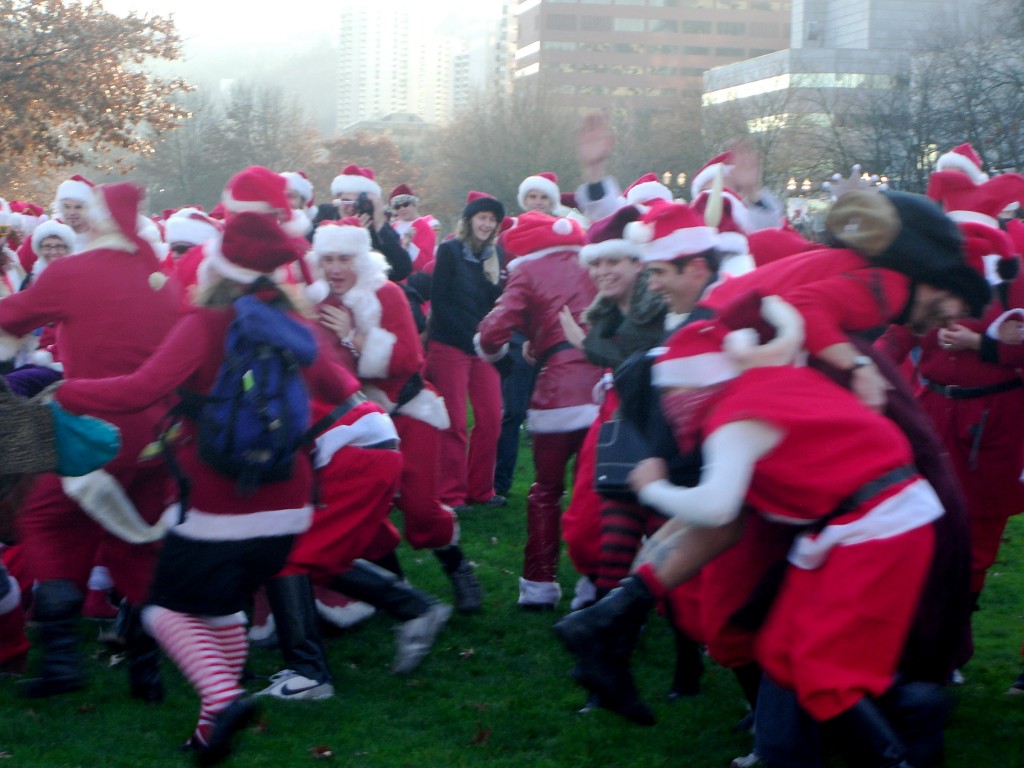 I will be attending the original "Santacon,"  which will happen in all it's original glory starting at Skidmore Fountain at noon on Saturday December 11th.  Or it might be December 18th.  That's the thing about Santacon, they keep it a bit of a secret and there are a few imposter Santacons.  But I'm PRETTY sure that the real Santacon is on December 11th.
If you decide to attend Satacon, you will need a Santa Suit, cash for bars and food and finally a sense of adventure.  You may end up FAR from where you parked the car, but it should all be in downtown.
ANTICON- DECEMBER 4TH- NORTH PORTLAND- MEET AT PAUL BUNYAN AT NOON
SANTACON- DECEMBER 11TH- DOWNTOWN- MEET AT SKIDMORE FOUNTAIN AT NOON