Are you under 30?  Are you a student?  If you answered yes to either, get yourself over to Portland Center Stage and buy some tickets!  Season tickets, that's 9 plays people, are around $175 per person!  Once you graduate or cross the dirty thirty mark, prices TRIPLE!  So this is your chance to go see some excellent productions in the beautiful Portland Armoury at a major discount.
We had tickets to the 2009-2010 season and just bought our tickets for this coming year.  Last season we had Sunday matinee tickets, this year we are gong Sunday evening.  Both are the same price and quite a bit cheaper than the Friday & Saturday night tickets.  One tip we learned the hard way, there is no assigned seating for the Studio Theater so you need to get there early and get in line for a good seat.  No chugging beers until the last second over at Deschutes then running in right before the doors close.
We enjoyed the Main Stage productions the most, but the Studio Theater has more experimental & intimate shows.   Snow Falling on Cedars, Ragtime, and the 24th Annual Putnam County Spelling Bee were our favorite of the year.  This upcoming season I'm really looking forward to Sunset Boulevard, An Iliad and One Flew Over the Cuckoo's Nest.  Not included in season tickets is a Christmas time production of Santaland Diaries by David Sedaris that is supposed to be fabulous.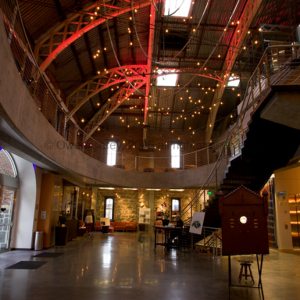 GERDING THEATER AT THE PORTLAND ARMORY
128 NW 11TH AVE
2010-2011 SEASON BEGINS SEPTEMBER 14TH WITH SUNSET BOULEVARD