I am by no means a expert on the local food cart scene.  For that, you should really visit Food Carts Portland, but I do have one recommendation: Flavourspot.  A waffle and coffee cart that serves a waffle sandwich they like to call a "Dutch Taco".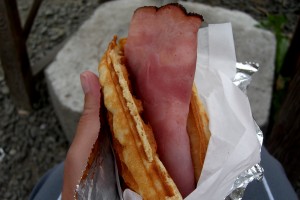 On our visit this weekend, I ordered the Ham and Gouda, which was good, but I found myself regretting I had not ordered something sweeter.  My partner in crime ordered the Sausage and Maple which I will probably order next time.  The waffles are really quite good, so a plain one with butter and sugar might be an excellent and cheaper snack, especially at the Old Town location that is open into the wee hours on the weekend.
There are three locations one on Mississippi Avenue, another on North Lombard and a third in Old Town.  For the exact locations and hours go to their website.  I personally recommend the Mississippi and Fremont location, they have a very nice seating area.