Spike and I spent Saturday morning at Fremont Fest, and participated in the parade with our favorite pet store, Green Dog Pet Supply.  It was really cute,  full of kids on bikes, dogs in costumes, and classic cars.  It ended at 50th and Fremont right next to a brand new business that's about to open called "Bottles."
It's in the former home of Jim & Patty's.  From the looks of it, it's going to be a bar along the lines of Saraveza or Belmont Station.   They don't officially open until August  27th, but had a little sneak preview for the Fremont Fest this weekend.  So I went inside to have a look around.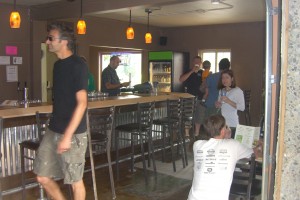 A nice long bar, a number of tables to sit at, and coolers lined the walls full of top notch beers.  The best part (in my opinion) is the very cute back patio Beirgarten.  It's just too bad they're opening at the END of the summer.
BOTTLES
OPENING AUGUST 29TH
SORRY NO WEBSITE YET