Hike: Wahkeena Falls Loop
This summer we have been trying to do at least one hike a week.  Usually on weekday mornings and so far all have been in the Columbia River Gorge.  Last week was a great one that we found in 60 Hikes Within 60 Miles of Portland: Wahkeena Falls a 5.2 mile loop.
This is a hike that gives you a lot of bang for your buck.  If you have only one day to visit the gorge, this is a great hike for you for one reason: 5 waterfalls!  That said, this is also the most touristy hike I've been on in Oregon.  It's paved for about one third of the way and packed with people on the trails leading to the top of Multnomah Falls.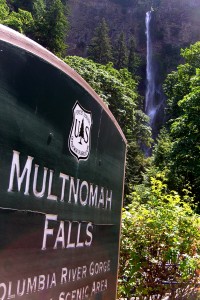 To start the hike, park at the Multnomah Falls parking lot, and from the lodge head west on the "Return Trail"  for 0.6 miles.   Then head up the paved trail at the Wahkeena Trailhead.
At Lemmon's viewpoint the trail turns to dirt and levels out (a little).  It will take you up through a canyon then onto the ridge at the top of the gorge.  One thing about this hike, we kept the dog on the leash the entire time, it just felt too busy to let him run around.
Once you start to head back down and approach the top of Multnomah Falls, you'll go past lots of waterfalls.
Eventually a paved trail will take you to the viewpoint at the top of the falls.  The photo does not do justice to the height.
After that, 13 paved and marked switch backs will take you down to the bottom.  This is where it gets busy, but it was pretty cool to hear all the languages being spoken.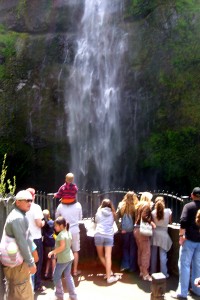 While touristy, Wahkeena Falls did have one thing most hikes don't:  A snack bar at the bottom.