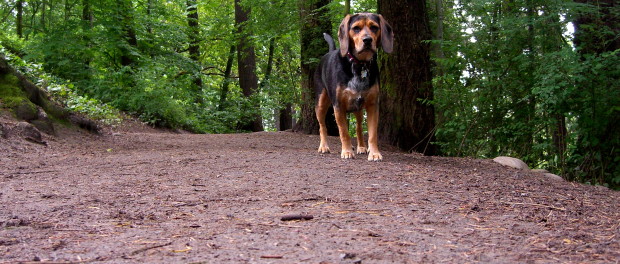 Being a dog owner is really really easy in Portland.  Between dozens of fantastic pet stores (like my favorite Green Dog), bars like Lucky Lab that allow you to drink WITH your dog, and the huge number of off leash dog-parks make Portland is as canine friendly as it gets.
One of my favorite parks is the Mt. Tabor Dog park because it is huge!  Well, huge for a CITY dog park.  The trick is finding it on the south side of Portland's dormant volcano park.  It's at the bottom of the hill on the south side.
There are multiple entrances:  SE 64th & SE Grant, SE 68th behind Warner Pacific College, and near SE 72nd & SE Lincoln.  It's not hard,  I just frequently have people tell me they have never seen it before.
The first time I visited, I let Spike off the leash and he ran off, disappearing into the woods.  He was just chasing some dogs and I found him after walking for a quarter mile to the central area.
Again, the best thing about this park is the size.   Just walking from one end to the other and back is a pretty good little walk not to mention there are dogs and people to meet along the way.
WARNING: If your dog has a tendency to run away, this might not be the park for you.  The dog park is only fenced on 3 sides!  The 4th is a steep hill covered in ivy that is not very inviting, but a dog could make a a getaway.