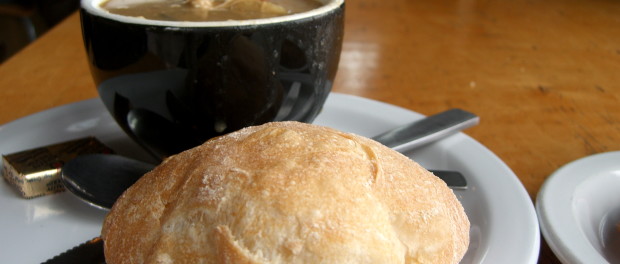 As part of my recent birthday celebration, I took myself  out to my favorite coffee shop, Crema, for my all-time favorite pastry, the Cheddar-Corn Biscuit.  I used to visit at least twice a week, but cut myself off for the last 6 months, as part of my weight loss plan.  So this most recent visit was like a homecoming for me.
There is just so much to love about Crema.  The pastries are absolutely superb.  All made right there in the shop. Croissants, turnovers, scones and biscuits to start the day, great soups and quiche for lunch, cookies, cakes and cupcakes for dessert.  On a hot day they open a garage door to the bakery and you can see them hard at work.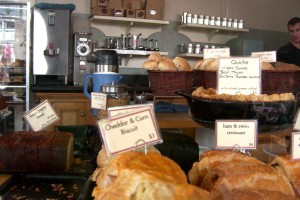 They serve Stumptown coffee brewed in a french press.  It's one of the only places I know that regularly serves African coffee.  They also have some great baristas that sure can make a beautiful cappuccino.
The cafe is very modern and spacious, with concrete floors, vaulted ceilings and local art on the walls. The free wifi attracts quite a crowd.  On a wet, rainy day it can get downright steamy in there with all the people and baking going on.  Cozy.
I have two complaints about Crema:  First, the service is a little slow for my liking, but then again, I am a former barista at Starbucks, where they have fast and efficient coffee service down to a science.  Just don't be in a rush at Crema.  Second, it can be hard to find a table.  Lots of people set up shop there for hours, taking advantage of the free Internet.  I don't really blame any of them, it just can be a little frustrating.  I've had to eat my biscuit in the car more than a few times.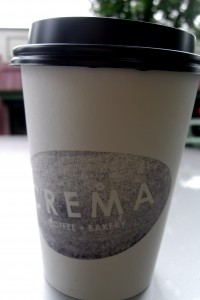 And the location is excellent.  It's on, in my opinion, one of the best streets in Portland.  East 28th Avenue.  (I'm sure I'll be writing more about it in the future.)  Crema is one block SOUTH of Burnside, near Ken's Artisan Pizza, if you are familiar with that restaurant.
SE 28TH & ANKENY (2728 SE ANKENY)
MON-SAT 7AM-6PM, SUNDAY 7:30AM-5PM