About once a year I terrorize/tantalize my friends with a little thing I like to call "Secret Mystery Fun Day".  Basically, I load them all up in the car and take them on a surprise field trip.  Their only information, what to wear, and how much money to bring.  Last year was a good one.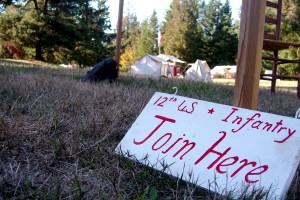 After about an hour in the car I revealed the mystery destination: Civil War Re-Enactment!  Thank goodness a chorus of cheers rang out and I was reminded why I love these people.  We visited the last Civil War Reenactment of the season (did you know they had "seasons" for this event?) at  McIver Park in Estacada.
We arrived just in time for the 3pm Battle, and as we made our way to the grandstands, the soldiers were already taking their places around the battle field.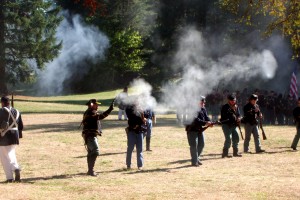 The battle was one word.  LOUD.  Dogs are probably not a good idea for this one.  There were guns, horses, cannons, soldiers and smoke everywhere.  I don't know if they decide in advance who wins, but they do  use real strategy used by the real troops fighting the civil war. Very interesting to see the old fashioned tactics.  Eventually, one side got the upper hand, and the there was a surrender.  But the fun was far from over.
The best part of the reenactments is visiting the camp afterwards.  They don't just re-enact the war, but the entire lifestyle.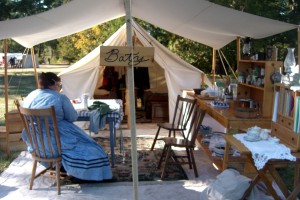 Wearing their clothes, eating their food and enjoying entertainment availible during the war.  Woman cook meals, kids play in traditional dress and the men talk about war.
We spent the afternoon visiting camp after camp, meeting people and hearing about their clothes, shoes, food and weapons.
Although still a bit of a nerdy hobby, they are passionate and it was great fun to share in their knowledge and enthusiasm.  Some of us even considered trying it  for ourselves.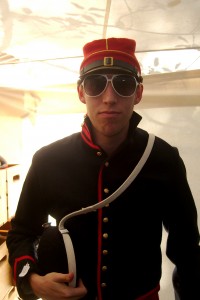 This summer (2010) there are three big weekend-long events to visit.  The first is coming up over the 4th of July Weeked.  If you visit, make sure to tour the camp, it was our highlight.
JULY 3RD-5TH
WILLAMETTE MISSION STATE PARK
BATTLES @ 11AM & 3PM
ADMISSION: $8-5
SEPTEMBER 4-6TH
FORT STEVENS STATE PARK
BATTLES @ 11AM & 3PM SAT & SUN- NOON ON MONDAY
SEPTEMBER 25-26
MCIVER STATE PARK
BATTLES @ 11AM & 3PM
ADMISSION $8-6
Check out the Spectator Guide- It should answer and additional questions.