Fleur De Lis Bakery & Cafe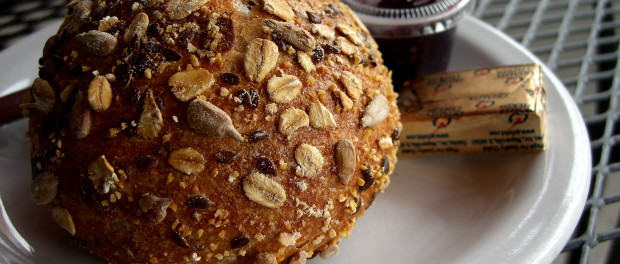 I have two favorite coffee shops in Portland.  One I don't go to very often any more because I think it may have been responsible for about 5 of the 15 pounds I just lost.  My second favorite is Fleur De Lis in Portland's Hollywood District.
First of all, it's tucked off the main road, a little gem, set back off Sandy Boulevard, inside the old library!  The night book drop slot is still next to the door.
I like this place because it feels homey, full of friends, Mom's with tiny baby's (don't let this turn you off, I've never even heard a baby cry there) and lots of fantastic things to eat.
When I first started visiting, I'd go for the ham & cheese croissant or a scone, you see, I'm a savory pastry lover, but then I discovered the Multi-Grain Roll.
But they are a little tough to find.  When you walk it, you'll immediately be drawn to the pastry case on the left… but the multi grain rolls are on the right.  Hidden away on top of the cold case.
They are excellent plain, but even better with a little jam and butter (ask for it).  And at the bargain price of $0.75 per roll, a cheap breakfast!
I have one complaint about Fleur De Lis, I don't care for their brewed coffee.  They serve Stumptown Hair Bender blend and I just don't like it.  Other Stumptown beans are great, just not that one.  It could also be their brewing process, but I can't be sure.
NE 40TH & HANCOCK (3930 NE HANCOCK)
MONDAY-FRIDAY 7AM-4PM
SATURDAY-SUNDAY 8AM-3PM