Gartner's Country Meat Market
As soon as we walked in, we knew we were in for two things:
1) A long wait.
2) Some great meat.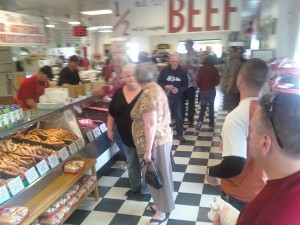 It was a Saturday afternoon and our first visit to Gartner's Country Meat Market.  The place was packed, so we took a number.  99.  They were on 76, so we settled in for a wait and started looking around.

Wow.  Piles of bacon, pork tenderloins, pot roasts, baby back ribs, pepperoini and even pig ears for the dog.
There were about 10 people behind the counter, working HARD.  Shouting out numbers, running around, taking people's orders.  Even with 20 people in front of us, we only had to wait about 15 minutes.
Finally:  "99!?!?"
I raised my hand and walked to the counter and asked for a Boston Butt.  They didn't have any cut to the size I needed so they called the butcher, and he cut what I needed.  What service!
Next time I'll go on a weekday morning, but was still worth the wait.
GARTNER'S COUNTRY MEAT MARKET
7450 NE KILLINGSWORTH
TUESDAY- SATURDAY 9AM-6PM, SUNDAY 10AM-4PM