Sometimes I think Portland needs to get over Voodoo Donuts.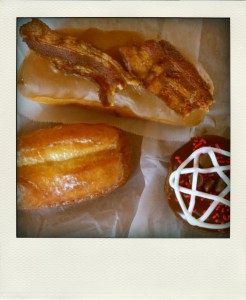 Yes, their Bacon Maple bar has crossed my lips more than a few times, but you know what?  They are a little pricey.  At 2am after a long night in the bellows of the Shanghai Tunnel, $2.25 for a donut is just fine, but by the light of day… $2.25 is a little steep.

So I offer you today, dear reader, Annie's Donuts. A classic donut shop like you remember from childhood.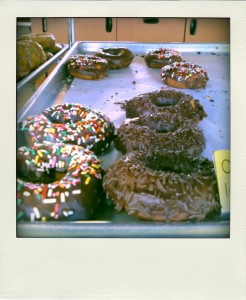 Bearclaws.  Old fashioned.  Cruellers.  At a great price.This Sunday, on my weekly visit, I bought one Cinnamon Apple Sauce, Cake Donut with Chocolate and Sprinkles, Chocolate Cruller,  and a Raspberry Bearclaw.  Grand total: $3.20.

ANNIE'S DONUTS
NE 72ND & SANDY BLVD
5AM-11PM M-F, 5AM-1AM WEEKENDS
(but they frequently run out in the middle of the day)