A Perfect Week In Portland
A detailed one week itinerary for a great week in Portland. This is the perfect sampler for any first-time visitor.
So you're spending one entire week in Portland, Oregon. But what should you do? How do you make the most of your time? I get asked this question by readers all the time, so I finally wrote it all down. You can slice the trip in lots of different ways, depending on what you are passionate about, but here's my suggestion for a good sampler. Plus check out my 25 Awesome Things to Do In Portland, Where To Eat and Coolest AirBNB Rentals posts for more ideas.
And we're off for a week in Portland!
Arrive Friday: Get the lay of the land
For your first hours in the city, head downtown. I suggest kicking off the evening at Departure, on the top floor of The Nines Hotel where you can have drinks with a beautiful view of Pioneer Courthouse Square, followed by dinner from world famous chef Gregory Gourdet (Top Chef Season 12). The tourism office is in the square across the street, a good place to pick up bike maps and info on public transportation. After dinner, stroll through Director Park, and the South Park Blocks before turning in for the evening.
Saturday: See the west side of the city.
Put on your walking shoes, you're going to rack up a lot of steps today. Start with a trip around the waterfront loop. It's about 3 miles, and will provide you with fantastic views of the city and includes Saturday Market, an artisan market that's open every weekend March through Christmas Eve. Afterward head into downtown for lunch. This is a great chance to check out the food carts, or stop at one of the great lunch spots like Killer Burger, Grassa or Lardo.
In the late afternoon or evening, head into the Pearl District, home to tons of art galleries, fantastic restaurants and a high concentration of Oregon's top breweries. If you are up for a little culture, grab some rush tickets for $25 at Portland Center Stage, or spend the evening hopping between breweries like Rogue, Deschutes, 10 Barrel and Bridgeport.
Sunday: Explore SE Portland.
It's time to explore the east side. If the weather is nice, buy a day pass ($12) for Portland's bike share program Biketown and head across the river, but be ready for a couple hills. I suggest heading across the Hawthorne Bridge to do a little shopping. Between 32nd and 50th on Hawthorne Blvd, you will find tons of vintage and resale stores, boutiques and restaurants. Some great spots to check out: Waffle Window, Blue Star Donuts, Portland Cider Company, Red Light Clothing, Presents of Mind, House of Vintage and Sloan.
If you are up for a climb, bike (or walk) to the top of Mt. Tabor Park, a dormant volcano in the middle of the city. The park is huge and fun to explore with reservoirs, dog parks, hiking trails and a soapbox derby track. There's a huge playground if you have kids along or a big hillside that's great for watching the sunset.
For dinner, grab a bike again, and cruise over to SE Division, what I like to call Portland's "Culinary District" The options are plentiful: Pok Pok, Ava Gene's or Xico are my suggestions for dinner. Try Lauretta Jeans (pie!) or Salt N' Straw for dessert. If you are tired, grab the bus or an Uber back to your place. If you are in the mood for cocktails, check out SE Belmont Street where bars abound. I suggest Circa 33, The Sweet Hereafter or a little further east, The Horse Brass, a gorgeous British pub that is a Portland institution.
Monday: Wine County and the Oregon Coast.
If you can swing it, secure a rental car for a couple days, because it is time to explore. First stop, wine country! Now, if you are interested in tasting lots of wine, I suggest spending the night in Dundee or McMinnville so you don't have to drive far. Dundee has a bunch of tasting rooms on Highway 99, or head into the hills to enjoy a glass with a stunning view. Erath and Sokol Blosser are two popular spots. Either at the end of the day, or the next morning, finish the drive to Lincoln City on the Oregon Coast.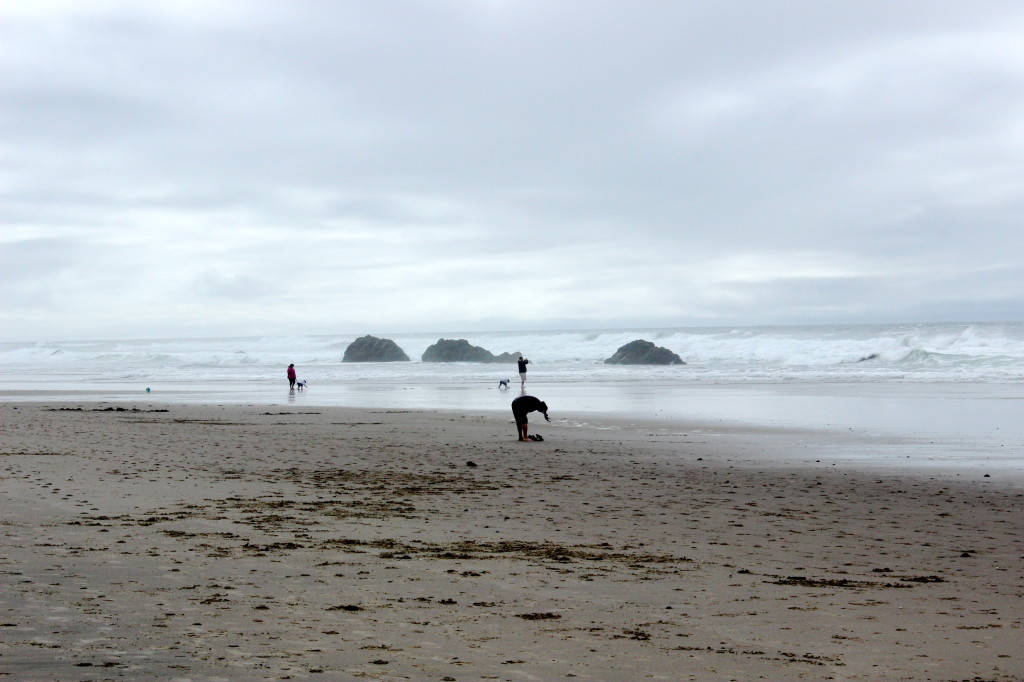 Lincoln City is known for a couple of things (as well as the beach): the big one is a huge outlet mall, (a popular choice for out of state visitors who want to enjoy Oregon's sales-tax free shopping) and a big casino! If you are interested in a night of gambling Chinook Winds has a hotel on site. Also if you are looking for someplace to eat, anywhere along the coast, check out Mo's Seafood & Chowder. I don't eat seafood myself, but this is a Oregon Coast staple that everyone else loves. There are locations in Cannon Beach & Lincoln City.
If you are not interested in wine tasting, gambling or shopping, instead of heading south to Lincoln City, drive west out of Portland, to the town of Cannon Beach. A town known as much for beautiful beaches as its charming downtown full of restaurants, breweries and art galleries. I'm always sucker for Bruce's Candy Kitchen. A couple great spots to look for: Public Coast Brewing, Cannon Beach Hardware & Public House, Ecola State Park, Hug Point State Park or Arcadia Beach.
Tuesday: Enjoy the Coast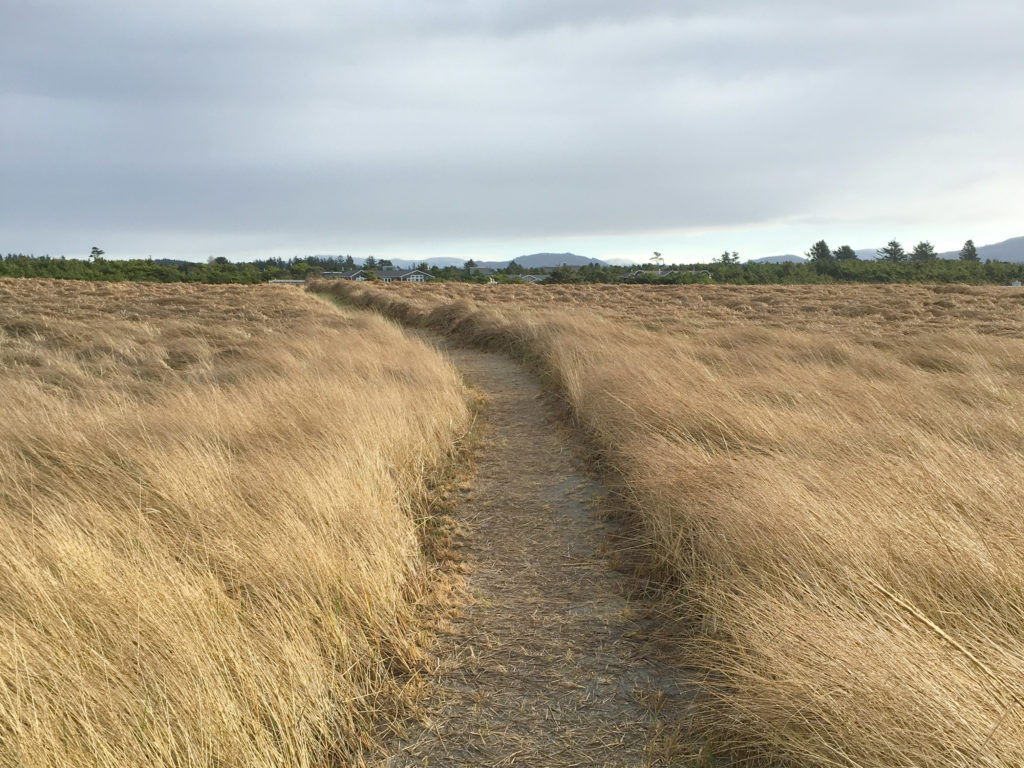 Spend Tuesday enjoying the coast, before heading back to Portland. If hiking is your jam, try Drift Creek Falls or Harts Cove near Lincoln City or Saddle Mountain on your way home from Cannon Beach. But be sure to spend some time enjoying the beach before you head back to Portland. Lincoln City has a cool hidden glass contest going on all winter (I tried to find one but had no luck). Cannon Beach is a great place to shop, or if you have kids along, drive up to Seaside, 7 miles north where there main drag is packed with arcades, midway games and mini golf.
When you arrive back in town, have a relaxed dinner at one of the great counter-service shops like,Nong's Khao Man Gai , Little Big Burger or Bollywood Theater. Consider taking in a movie at one Portland's many historic theaters. Laurelhurst, Academy, and Hollywood are all great options, plus they serve beer and pizza!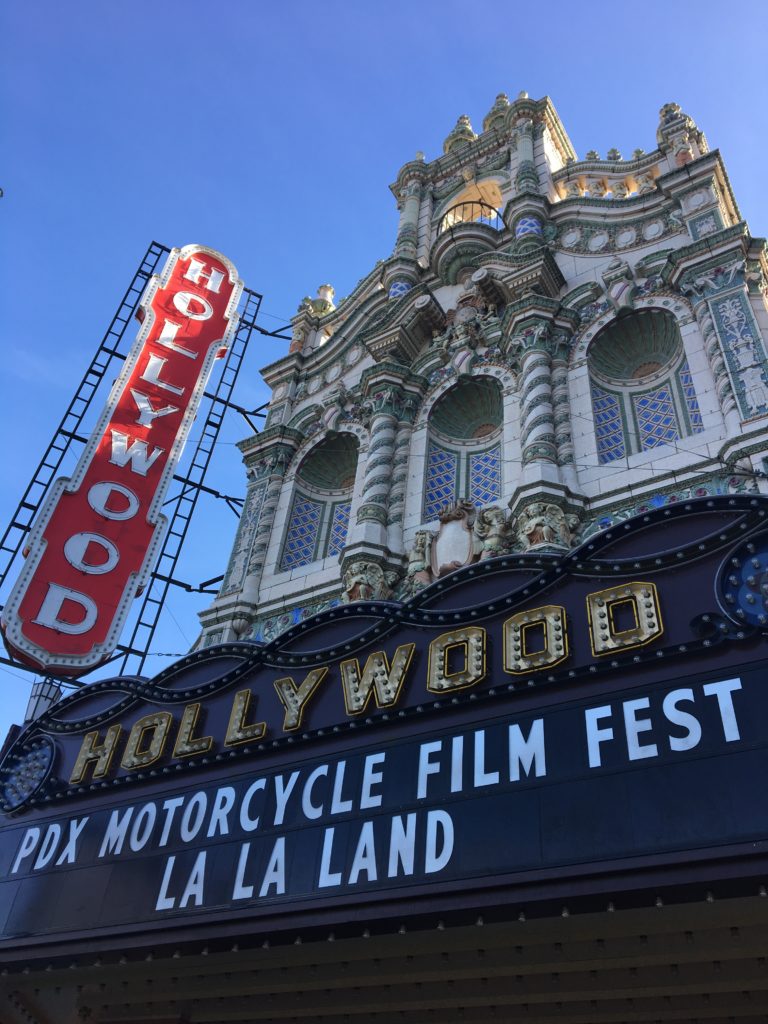 Wednesday: Explore the Neighborhoods
Downtown and the Pearl District are great, but the real flavor of the city is in the neighborhoods. So use that rental car (or any of these are easy to access on public transportation) and do some exploring. Here are three suggestions:
Mississippi Avenue:

5 blocks of Mississippi Avenue from Fremont to Skidmore are packed with bars, restaurants and all kinds of interesting stores. Personally, this is my favorite neighborhood to spend an afternoon. At one end you'll find a massive center for recycled building materials on the other a German Pub and food cart garden. Don't miss: Prost!, Por Que No, Paxton Gate, Animal Traffic, Sunlan Lighting, and Pistil's Nursery.

Multnomah Village: A charming little village tucked away into the hills of Southwest Portland. Cafes, toy stores, tea shops abound. This is "Old School Portland" at its finest. Don't miss Thinker Toys, Lucky Labrador Brewing (Dog friendly brewery) or John's Marketplace, a hidden away little gem with one of the best beer selection in the city. And if you have time, take a stroll through nearby Gabriel Park.
St. Johns: In the northernmost section of the city along the bank

of the Willamette River sits the community of St. Johns. I find it a little grungier than other parts of the city, but full of character. Here you'll find stunning views of the most beautiful bridge in the city from Cathedral Park, some of the best tacos in the city at Tienda Santa Cruz, and one of the best frisbee gold courses in the city in Pier Park. Also great: Anna Bananas Cafe, Cathedral Coffee and Blue Moon Camera.
Thursday: Outdoor Adventure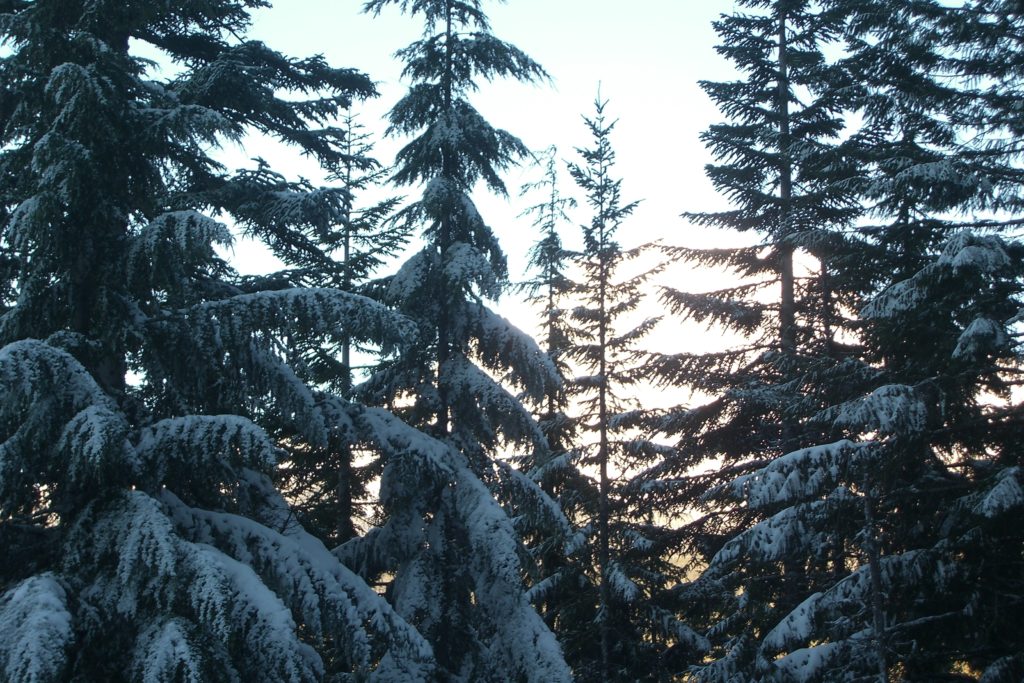 It's time for another adventure out of the city. If it's summer time, head for the Columbia River Gorge and if it's winter, head for the snow on Mt. Hood.
Columbia River Gorge: There are so many hikes and waterfalls to see in the gorge, its a bit overwhelming, but I have a few suggestions. No matter where you end up hiking, always bring water, food and a cell phone. Here are 3 hiking suggestions of varying length & difficulty:
Dog Mountain is difficult and steep, but the views on a clear day are fantastic, plus in the spring the tps section of the hike is covered with wildflowers. (7 miles)
Wahkeena Falls Loop is one of the most popular hikes in the entire gorge and takes you past 8 waterfalls including the famous Multnomah Falls. It's well marked and very busy, but don't take it lightly, expect to be in the forest for 3+ hours and be sure to pay attention as it's not uncommon for hikers to lose their way on this one. (5 miles)
Latourell Falls is a quick two mile loop that's fairly easy (pretty much all waterfall hikes will hake some elevation gain) and has great waterfalls at both ends. This is the closest waterfall hike to Portland. (2.4 miles)
Beyond hiking, I suggest checking out the town of Hood River, where there are a number of breweries, restaurants, hotels and shopping. It's a great place to spend the night if you want to spend more time in the gorge. It's the beginning of a beautiful scenic drive called the "Fruit Loop" which includes wineries, cider makers, fruit stands, breweries, and antique stores.
If you don't have transportation out of the city, use this day to explore Forest Park. You can connect with lots of trails in the Hoyt Arboretum which are very close to the MAX stop at the Oregon Zoo. From there you can follow the Wildwood Trail north for a number of miles, before heading back into the city.
Mt. Hood:
If you want to downhill ski/snowboard there are 3 great resorts to choose from. Mt. Hood Meadows has the best variety of terrain, some back country skiing and a handful of terrain parks . Timberline is famous for its beautiful WPA lodge (Featured in the movie The Shining) and is the only resort in North America open for skiing 12 months a year. Ski Bowl lower on the mountain, offers cheaper tickets than the other resorts and has a large area for night skiing. And if you have kids, or just aren't into skiing, check out their Cosmic Tubing.
If you are interested in cross-country or snowshoeing, you can pick up gear in Sandy or Government Camp. The rental places will have good advice on where to go, but I suggest Tea Cup Lake for some great cross country tracks and White River or Trillium Lake for the snowshoeing newbie.
If you don't have transportation out of the city, use this day to explore Forest Park. You can connect with lots of trails in the Hoyt Arboritum which is very close to the MAX stop at the Oregon Zoo. From there you can follow the Wildwood Trail north for a number of miles, then drop back down into the city.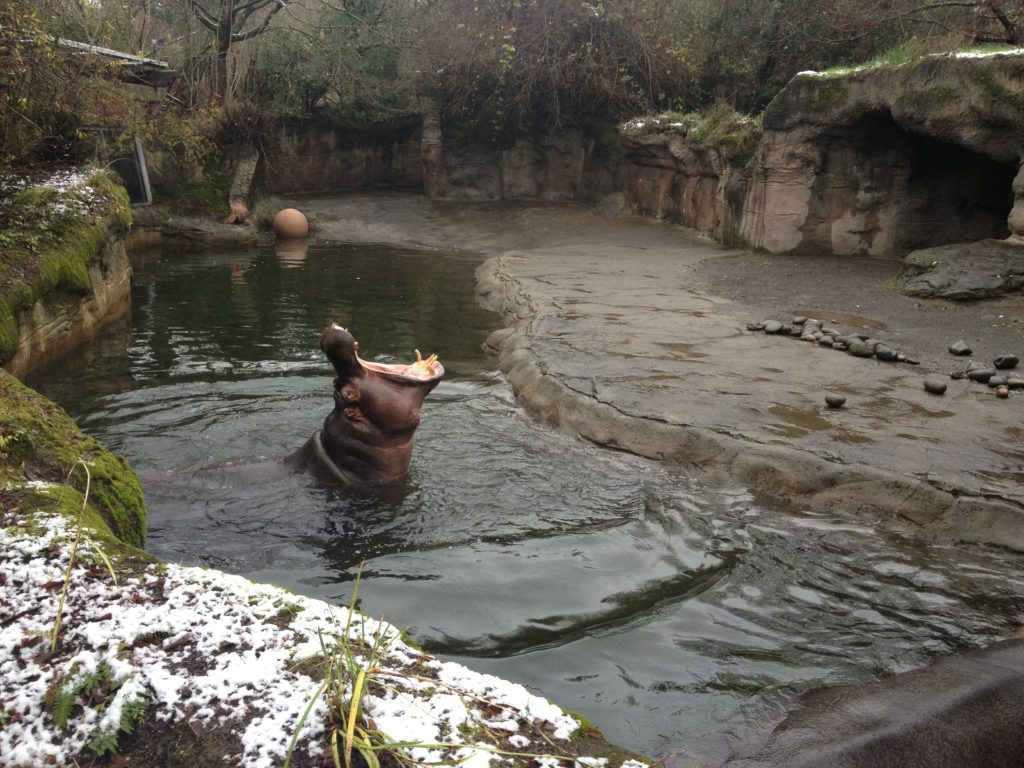 Friday: PDX AllStar's Day
If you insist on visiting Voodoo Doughnuts reserve a few hours to stand in line. Or I suggest checking out Blue Star, it's very popular as well but has shorter lines and more interesting flavors. Afterward, head for the hills for a walk in Forest Park. It is a 8-mile long stretch of forest that boarders the western edge of the city and includes 70+ miles of trails. You'll never be able to see all of it in one day but it's easy to find a hike. Lower Mcleay Park To Pittock Mansion is a good 5-miler with lot to see and some calf burning hills.
During the summer months, this is also a good time to visit the International Rose Test Garden. There is a bus that can take you there, or consider walking. It is a beautiful walk from the Providence Park Max stop (although it's mostly up hill).
No matter what you do, don't miss a visit to Powell's City of Books. Locals love it as much (if not more) than visitors, and it's easy to spend hours browsing room after room. Be sure to find the Rare Book Room on the top floor and check out their gift section, a great sport to find cool Portland schwag to take home.
For your last big meal I say go big with reservations at Beast, Le Pigeon or Paley's Place. But if that's not in your budget Eater PDX always has great lists of the best restaurants in town.
Leave on Saturday: Bon Voyage
When it's time to leave, be sure to get to airport with plenty of time to spare so you have time for a meal. Why would I want to have a meal at the airport? Isn't it just fast food and Cinnabon? No! Not in Portland. Some of the best restaurants in town have opened up inside the terminals. I suggest the Country Cat but Mo's Seafood, Stumptown Coffee, Rogue Ales and Laurelwood Brewing all have locations there too, so there are plenty of options for GOOD food before your flight.
That's the end of this itinerary.
One final note, if you end up with an afternoon or day free, Portland has some great museums. The Portland Art Museum is excellent and easy to access in downtown Portland. OMSI (Oregon Museum of Science and Industry) is tons of fun for grownups and kids. I highly recommend the submarine tour. Check their calendar for OMSI After Dark, their 21+ night once a month. Finally, the Oregon Zoo is right on the MAX line and very beautiful year round.
Have a great trip! I hope you enjoy Portland. And let me know if you find any amazing gems during your visit!