Portland Plates: Apple Butter Tart
Hurray! A new edition of my Portland Plates series. Sometime I wonder if I should just give up my travel blogging and just jump into food blogging. I cook ALL THE TIME. I'm currently testing out new recipes for our Christmas cookie plate, I'm making a LOT of homemade baby food plus I cook our family dinner every night. But overall, I'm not really a creative cook. Recipes all the way. So this series is my way of occasionally dipping my toe into the food blogging waters. Each month I recreate a popular dish from a Portland restaurant. This month I decided to make a dish from Feast Portland, the food festival I attended in September.
I arrived at the festival in search of dish to make at home, but most of the stuff I ate, even the sandwiches at the Sandwich Invitational, were too complicated or difficult for me. But then, on the final day at Brunch Village I ate the Pine State Tillatart a la Mode with bourbon apple butter tart, red-eye bacon jam and smoked cheddar. The recipe was a collaboration between Pine State Biscuits and Tillamook Cheese and they nailed it!
The tart dough was a bit fluffy and soft, like biscuit dough……. but when I asked the Pine State guys about it, they insisted it was not! Humm… what was it? I'm still not sure, but when in doubt, I decided to just use a pie crust. Pie crust is always a good idea, right? I used Smitten Kitchen's Pie Crust recipe after I had great success using it for Peach Dumplings earlier this summer.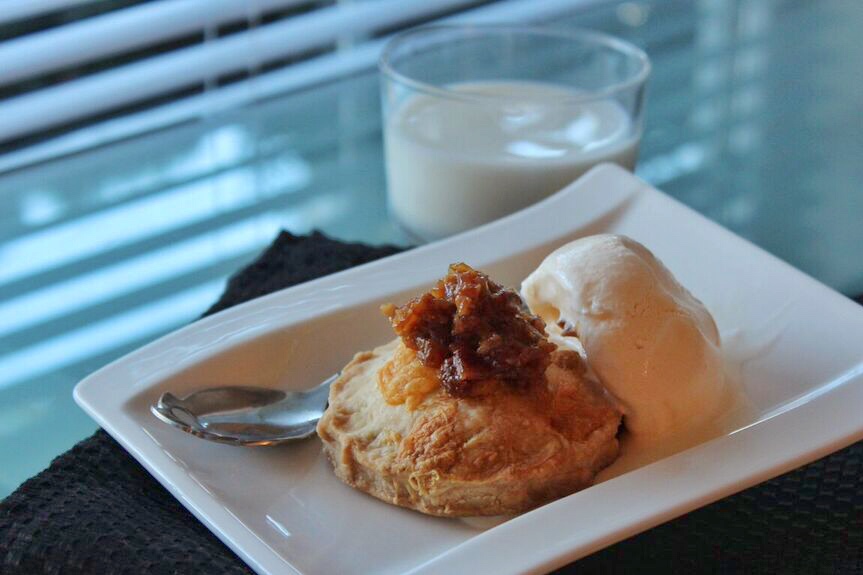 For the Bourbon Apple Butter, I found an amazing slow cooker recipe online (the site no longer exists, sorry). This stuff is delicious, really easy and make a ton. My freezer is stocked for the winter.
After a little googling I discovered that "red-eye" means made with coffee. So I used this Bacon Jam recipe. Bacon Jam may be the most amazing thing I've made this year. Basically, it is caramelized onions and bacon cooked with sugar. How can you go wrong? I used it on the tarts but also as a condiment on some hot dogs and hamburgers. Try it. Or actually don't because you might die of deliousness. It was a bit time consuming to make, but in the end it was worth it.
Finally, staying true to the original recipe, I used Tillamook smoked cheddar. That stuff is pungent! I don't think I can eat it straight but cooked inside something it is fantastic. And of course, Tillamook Ice Cream. I went with French Vanilla which is a custard-based ice cream so it is really, really soft and melty.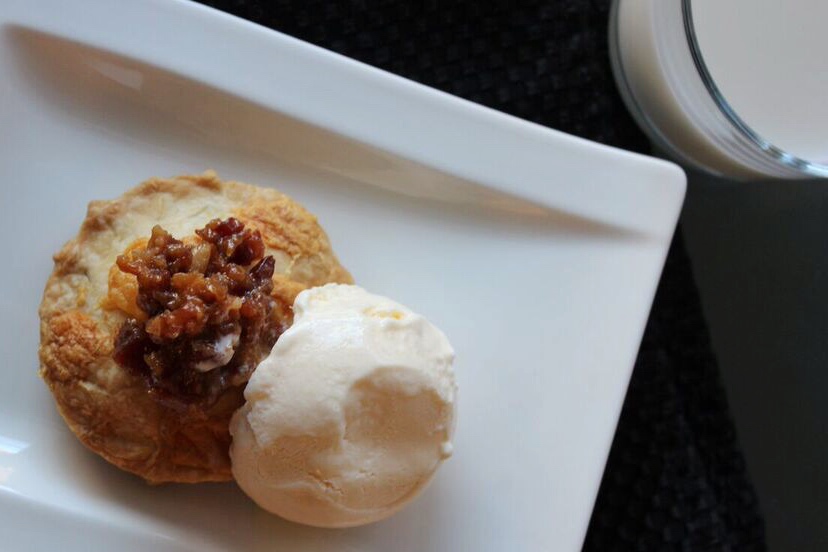 To put it all together I used a biscuit-cutter to make the rounds for each mini tart, added a dollop of apple butter, crimped the edges then sprinkled them with shredded smoked cheddar. After baking I topped them with bacon jam and ice cream. I also ate a bunch of them without any toppings as hand pies. Like I said, I love pie crust. This recipe is a lot of work, but even if you don't make the entire thing, I strongly suggest trying the apple butter or bacon jam recipes on their own. You won't be sorry. Happy Baking!
Apple Butter Tart a'la mode with Red-Eye Bacon Jam
2015-10-15 22:19:50
Mini apple butter tarts topped with smoked cheddar, red-eye bacon jam and vanilla ice cream.
For the Apple Butter
6-7 pounds apples (I used Jonagold but any variety will do)
1/2 cup brown sugar
1/2 cup granulated sugar
1/3 cup bourbon
1 Tbs cinnamon
1/4 tsp cloves
1/4 tsp nutmeg
Pinch salt
For The Bacon Jam
1 pound smoked bacon, cut into 1-inch pieces
4 cloves garlic, minced
1 medium onion, sliced
1 Tbs dark brown sugar
1 Tbs Sriracha, or hot sauce
1 Cup coffee
1/4 Cup apple cider vinegar
1/4 cup maple syrup
Black pepper to taste
Extra water
For the Dough
2 1/2 cups flour
1 Tbs sugar
1 tsp table salt
2 sticks unsalted butter, very cold
Ice water
Also
Tillamook Smoked Cheddar
Tillamook Vanilla Ice Cream
For the Apple Butter
Combine all the sugars and spices in a bowl, stir to combine. Set aside.
Peel, core and slice all the apples. Make sure to remove all seeds.
In the slow cooker, begin layering the apples and sugar mixture. Cover the bottom with apple slices, top with 1/3 cup sugar, repeat until all the apple and sugar are in the crock.
Cover and set on LOW for 10 hours. The apples should be very mushy and juicy at this point.
Blend until smooth using an immersion blender or countertop blender. Add bourbon, then return to the slow cooker.
Leave uncovered and continue cooking on low for another two hours to thicken and darken the apple butter. Now it is ready to use, freeze or can.
For the Bacon Jam
In a dutch oven fry the bacon in batches until lightly brown and beginning to crisp. Drain on a paper towel and set aside. Save two tablespoons of bacon grease in the pan.
Fry the onion and garlic in the bacon fat over medium heat until translucent.
Add the bacon to the onions and garlic along with the rest of the ingredients except the water. Simmer for two hours adding 1/4 cup water every half hour. Stir regularly.
The jam is done when you can't tell the onions from the bacon. Cool for 15-20 minutes then pulse 2-3 times in a food processor. Refrigerate for up to two weeks.
For the dough
Gather ingredients, including glass of ice water.
In a large bowl whisk together flour, sugar and salt.
Cut butter into small cubes. Sprinkle cubes over flour.
Using a pastry blender, two forks or your cold fingers, begin working the butter into the flour mixture until all the butter pieces are the size of tiny peas. It may look uneven but that is okay.
Start drizzling 1/2 cups of ice water (not the cubes) over the butter and flour mixture. Mix then continue to add water 1 tablespoon at a time until the dough comes together.
Use your hands to knead the dough and gather it into a ball. Divide the dough in half, pat each half into a disk then wrap in plastic. Chill in fridge for 1-2 hours.
To assemble tarts
While dough is chilling in the fridge, chill your apple butter in the freezer.
Preheat oven to 350 and cover two baking sheets with parchment paper.
When dough is ready, remove from fridge and roll out to 1/4 inch thickness. Cut dough with a biscuit cutter. Gather and re-roll as many times as needed.
To assemble the tarts by putting a dollop (about 1 Tbs) of apple butter on one dough round. Cover with another round and crimp the edges. Place completed tart on cookie sheet. Repeat with the rest of the dough rounds.
Sprinkle each tart with 1 Tbs shredded smoked cheddar.
Bake tarts for 30 minutes or until golden brown, rotating sheets halfway.
Serve with warm bacon jam and a scoop of vanilla ice cream.
Adapted from Real Girl Recipes, Tide & Thyme, Smitten Kitchen
Adapted from Real Girl Recipes, Tide & Thyme, Smitten Kitchen
Kristi Does PDX: Adventures in Portland, OR https://kristidoespdx.com/