Portland Dining Month: Cyril's
The final days of Portland Dining Month. We tried Cyril's at Clay Pigeon Winery this weekend.
There are only a couple days left to try out Portland Dining Month. (The last day is tomorrow, March 31.) So my husband and I headed out to Cyril's at Clay Pigeon Winery for a much needed date night. Having a newborn is tough on parents. We are weathering the craziness pretty well, but it's nice to have a little time out of the house together. He is the best person to commiserate with! But back to our meal….
Cyril's is a fun little restaurant right off of Sandy. Cyril's is the restaurant and bar inside the Clay Pigeon Winery. It's on that piece of Sandy that jags to the south at 12th avenue. You know the spot… where it heads downhill and through a crazy bike intersection, near The Slammer. I've been to this space once before for a Portland Bloggers networking event. They have a large event space behind their smaller restaurant that's great for parties.
Of course, we ordered a couple glasses of Clay Pigeon wine, the Syrah and Pinot Noir. I'm not much of a wine expert but they both tasted great to me. Red wine was what I craved the most while pregnant, so it's nice to finally have some good stuff. We ordered one Portland Dining Month menu plus an order of short ribs. We planned on both of us getting the dining month menu, but the rest of the menu was too enticing.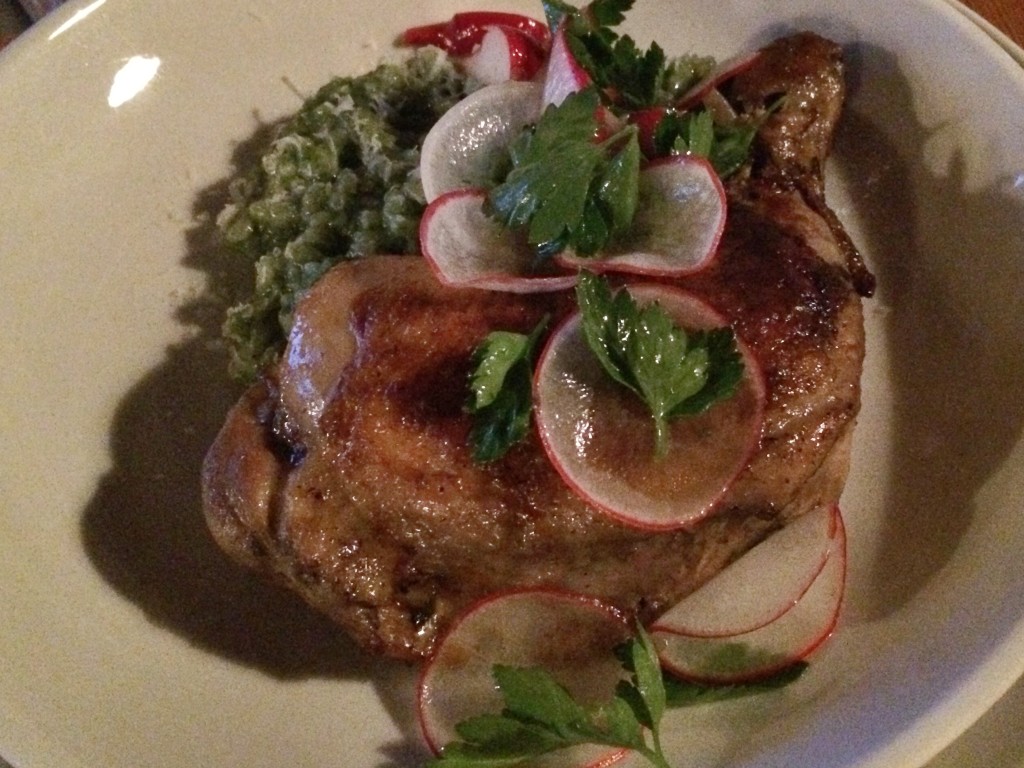 The dining month special was a market salad, that came with a beautiful pile of fresh greens, goat cheese, kumquats and pea shoots. The second course was braised chicken with a nettle risotto and the final course was dessert: a chocolate pot de creme topped with hazelnuts. We didn't want to share that, so we ordered a second one. I can't say which course was the best, probably the chicken, but I loved the salad too. The short ribs were a highlight as well. Rich and tender, serve over polenta. I've become kind of obsessed with polenta recently. It's such an easy and delicious side! I love making it at home.
The evening was just lovely. Great food, great wine and great conversation. I would go back here again. They have a big cheese and meat board selection, which might be fun for a ladies night out. Plus, the inner southeast industrial location is great.
Disclosure: This meal was provided courtesy of Travel Portland, but all opinions are my own.
CYRIL'S AT CLAY PIGEON WINERY
815 SE OAK
DINNER TUESDAY-SUNDAY
SEE WEBSITE FOR SPECIFIC HOURS