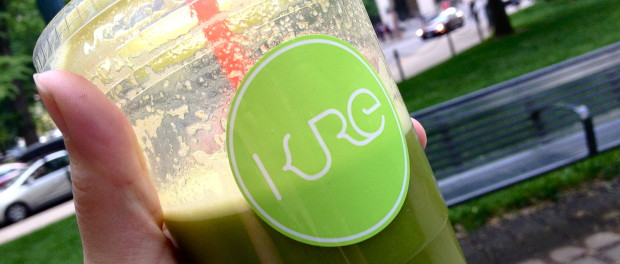 Everywhere I turn people seem to be juicing. It's kind of a fad right now. My favorite bloggers, co-workers & friends all seem to be into it, but I have to admit… I'm a little skeptical of the whole situation. Seem like you miss a lot of the good stuff when you squeeze  all the fiber out of the fruits and vegetable, then again, this might be a great way to incorporate more veggies into your diet.  I don't know.  So this week I took the "don't knock it till you try it" approach and hit the juice bar.
Luckily there is one close to my bus stop so I gave it a three day trial. It's called Kure Juice Bar.  Their first store is out on SE 44th & Hawthorne, but I went to their newish downtown location on SW Taylor.  It's a pretty cool little store.  No tables, just a few benches for waiting. Bright, clean and airy.  I was impressed with the wall of produce behind the counter. Seriously FRESH food.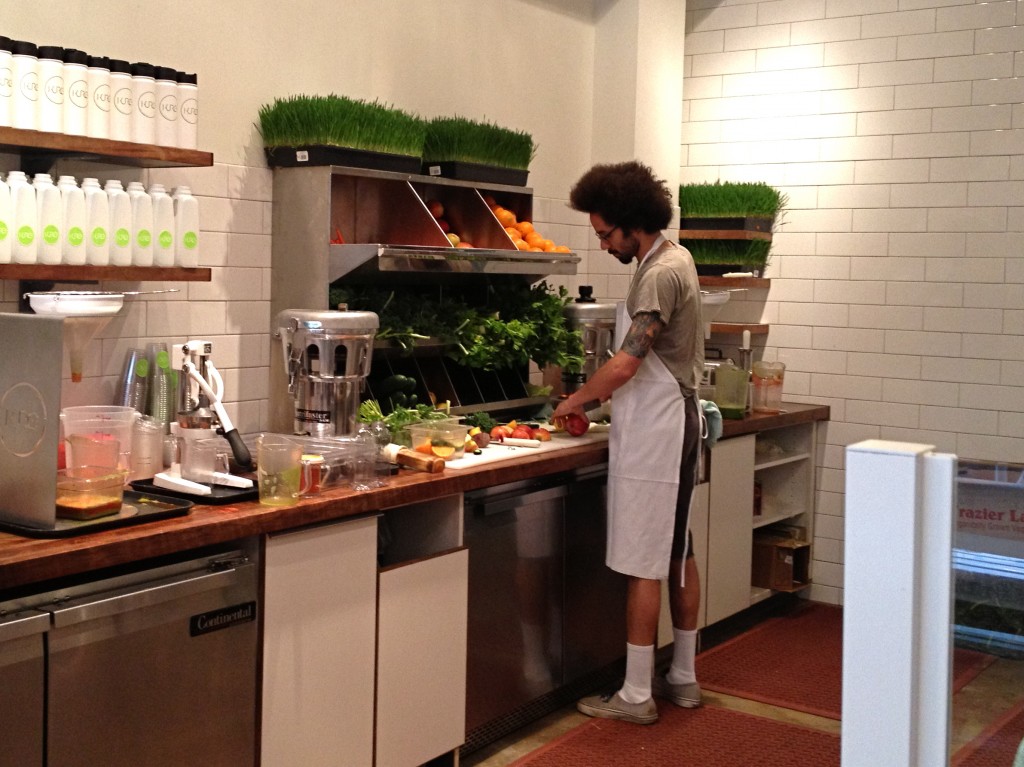 DAY ONE
The place was packed at 7:30 am. I had to wait in line to order, then wait for about 10 minutes for my food. I ordered the "Hot Mess" oatmeal and "The Extra Mile" green smoothie.   The smoothie was amazing.  A thick and substantial drink, full of coconut and almond butter.   The oatmeal did not impress me as much, but that may have been my fault. I had to wait for about 30 minutes to eat it, so it was gloopy and lukewarm by the time I got to it.  Plus, I was already full from the smoothie!  Bottom line, I ordered too much food! But I should have realized that when my bill cane out to $10.75 for breakfast!
DAY TWO
After over ordering on day one, I decided to just order a juice on day two. The place was empty this time, so I was in and out in less than five minutes. I went with "Liquid Sunshine" which ended up being the best thing I tried at Kure. It has apple, orange, kale, lemon and ginger.  It has a nice refreshing flavor with a hint of spice from the ginger.  The perfect level of sweetness and it wasn't too cold. I may be in the minority on this one, but I don't like to eat or drink stuff straight out of the fridge, so this juice was perfect for me, served just a little below room temp. Cool but not cold.  As a breakfast, one 12 oz juice did not fill me up, I ended up having to supplement with a bagel from Starbuck's later.
DAY THREE
Another busy day at Kure, there was a line, but it moved quickly. I walked out with a juice in hand in less than 10 minutes. This time, I went with the "Rawsome Blend" because it was a little out of my comfort zone made with apple, lemon, kale, spinach, parsley and celery. You could really taste the celery!  It took me a little while to get used to the flavor, but I ended up loving it.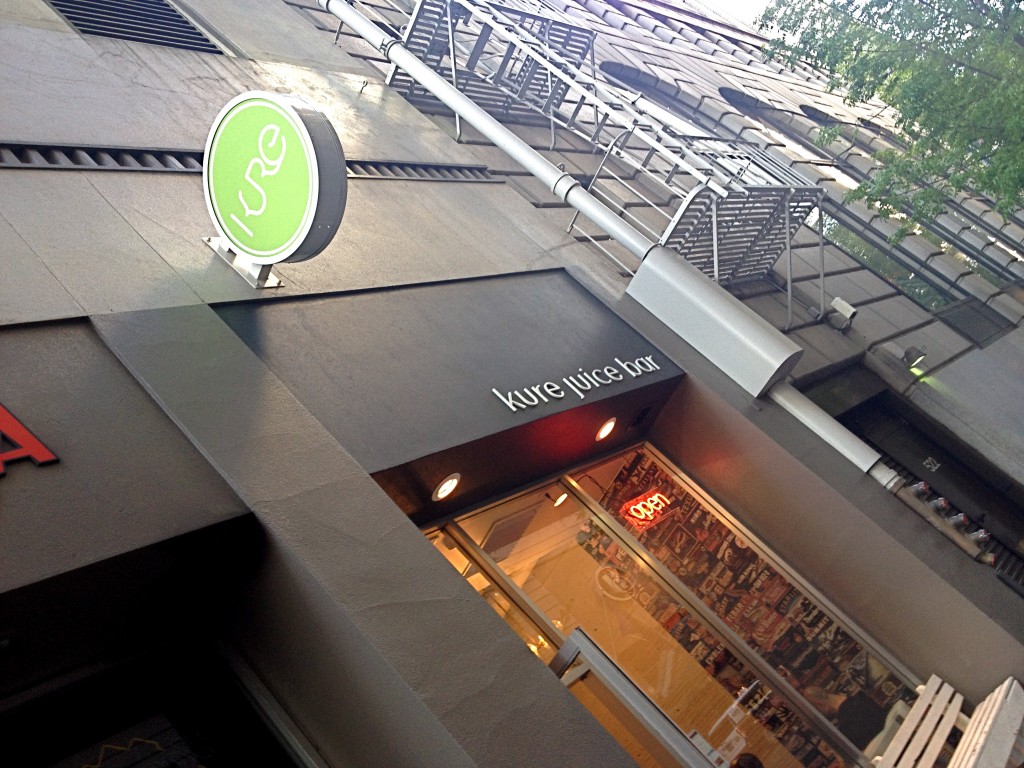 So will I go back? Yes, but only once in a while, it's kind of an expensive habit to keep up. $6 a day for juice is a little more than I'm willing to pay.
Have I changed my opinion on juicing? Yes. I felt good after drinking it and it was actually kind of a fun way to eat a healthy breakfast.  I see why people do juice cleanses, although I doubt I'd ever do one. Speaking of cleanses, Kure has it's own cleansing program, $104 for 3 days.
I'd love to go back and try a few more juices blends like the "Green Envy" with avocado, the "Winning at Life" smoothie with mango or the "Sex Panther" with acai berries.  But I'll have to wait and see if juicing has won me over for good.