Attention foodies!  There is one excellent Portland publication I bet you are missing.  It comes in that paper thing that used to arrive on your doorstep… you might have heard of it… it's called the Oregonian.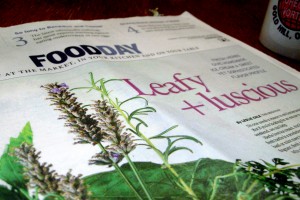 Every Tuesday I rush to the paper and rip through it until I find that glorious section: FOODDAY.  Each week it focuses on a specific topic and  is written by cooks living in the Portland area who know what's in the mind of local home cooks.
Last week, when I had 10 pounds of zucchini in my kitchen, Foodday came through with some delicious new recipes.  This week, some fantastic ice cream recipes using fresh herbs from the garden.  I'm clipping and saving these for sure.
The Foodday has helped me make the perfect Angel Food Cake, provided me with numerous pots of tasty soup, taught me how to make freezer jam, and inspired me to make French Onion Soup FROM SCRATCH.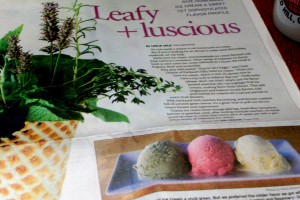 Not only does it have recipes, there are also cookbook reviews, wine suggestions, ideas for using the veggies in season at local farmer's markets and coupons.  Every three weeks or so, they put out a $10 off coupon for Safeway.
And no, you can't get all of this online, so next Tuesday pick up an old fashioned newspaper (the Foodday is frequently in the free one they toss on my porch once a week as well) and let it inspire you to get in the kitchen.
FIND THE FOODDAY EVERY TUESDAY IN THE OREGONIAN